The weather has changed for the better and it's time to return to the lifestyle I love, riding bikes, getting dirty, and occasionally getting hurt! My shoulder injury ended up be just a slight separation (self diagnosis). I'm already riding again after just a week and a half off; sore but steady.
Last weekend I attended a great tradeshow/expo in Minneapolis put on by QBP (the biggest bicycle supply company in the country). Minneapolis is a great city with a tremendous cycling community, but gosh-darn its COLD. I visited the famous One-on-one Bike Studio - right down the street from Deja-Vu gentleman's club and right next to Sexworld. Needless to say, its a great neighborhood! The scene was great, a cacophony of shared interests (mostly involving music, drink, and bikes).
Yesterday, I cleared the cobwebs and dust off my gear and headed to Kokopelli. Horsetheif was as good as it gets. I filmed a good chunk of it for a video project I'm doing. Cleaned the drop-in for the first time of the year - 1 for 1...I think I should keep a log of attempts (I'm probably at about 50% lifetime - it's an ever-changing doozy!)
Today I awoke in Moab -the product of some sort of alien abduction I'm sure. Making the best of a strange situation, I got with my gal Nancy and my manfriend Tyson (the chosen one). We slayed Porcupine Rim and I again logged over an hour of footage. I've known Tyson to be one of the best riders around for awhile and I think I at least captured a glimpse of that on video.
;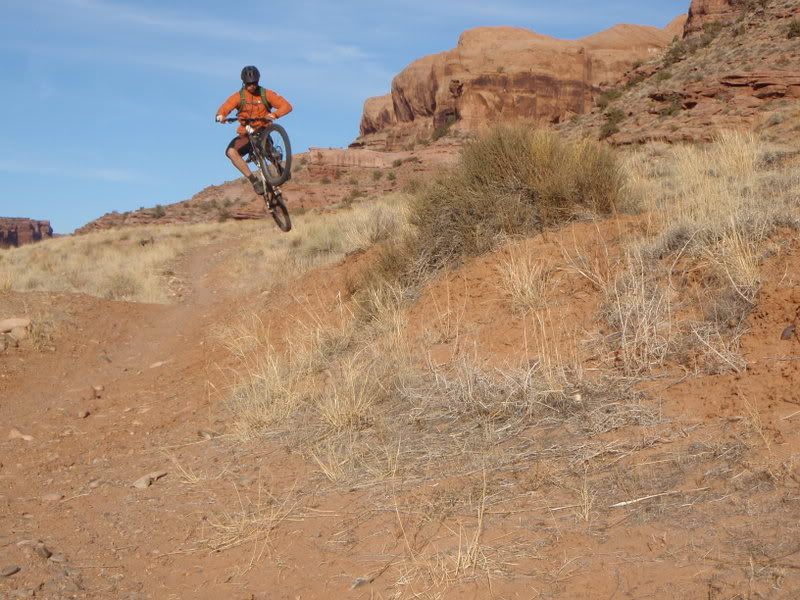 Rider: Tyson Swayze, Photo: Nancy Morlock
I've got cake to eat, so I'm Audi 5000. Tomorrow Jackson's is waiting.....